Triumphant in Toulon
Published 08:25 on 22 Oct 2018
INEOS TEAM UK finished the GC32 Racing Tour 2018 on a high by taking victory at the GC32 Med Cup in Toulon. This, the British team's second title of the season, meant they finished the Tour second overall, despite missing the opening event.
The French coast served up extreme conditions all week and today was no different as the fleet headed out in 20+ kts of breeze and choppy sea state. Unfortunately, with the conditions worsening and the wind strength at racing limit, Principal Race Officer Stuart Childerley made the call to send the fleet back to shore without any races completed.
The waiting game commenced as the teams patiently remained ashore hoping the breeze would drop and the sea state settle. However, the weather gods did not play ball and with the conditions worsening the call was made to cancel racing and INEOS TEAM UK took the regatta title.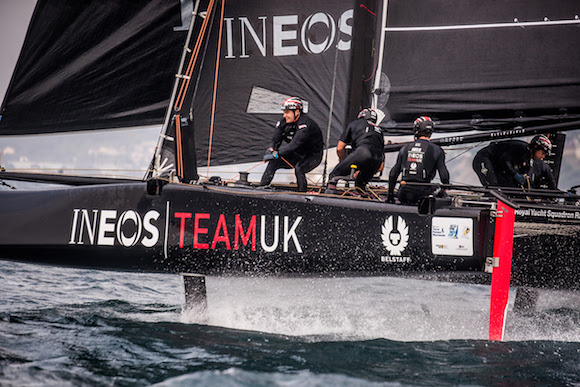 It was an excellent performance by the British team in Toulon with a 50% race win percentage and no results outside of the top three in the ten races completed.
Team Principal and Skipper, Ben Ainslie on the final event "We are delighted how the season has ended with the win in Toulon. It has been very useful to be on the Tour with the longer-term America's Cup goal in mind. To be able to bring the team together and get some high-quality foiling racing under our belt will be invaluable for our 36th America's Cup campaign."
Ainslie added "It's not just about sharpening the sailing team tools, we have also had exceptional support ashore and that is crucial to succeed on these types of circuits. Matt (Adams) and Aston (Campion) have done a great job on boat preparation and we have seen big improvements. We've also had Jono (Macbeth) and Rob (Wilson) analysing every race to push performance and not forgetting Ben Williams who kept us in great shape – we are lucky to have that support."
The goal for INEOS TEAM UK is to win the America's Cup – Britain has never won the Auld Mug despite hosting the first Cup in 1851. The next America's Cup takes place in Auckland in early 2021 aboard foiling AC75 monohulls, as this is a new class there is no perfect circuit for Cup teams to train. Therefore, the British challenger chose the GC32 Racing Tour.

Ainslie concluded; "The America's Cup is over two years away, we can't get rusty, we had to keep the sailing team current and for sure the GC32 Racing Tour has done that. It has been everything we hoped for a top competition and I'm really pleased with our performance and how it's ended".
As the design process continues at the team base in The Camber, Portsmouth the INEOS Rebels with Leigh McMillan at the helm will race in San Diego this week, in the penultimate act of the Extreme Sailing Series.
Overall results
1st INEOS TEAM UK (GBR) 16 pts
2nd NORAUTO (FRA) 29 pts
3rd .film Racing (AUS) 34 pts
4th ZouLou (FRA) 42 pts
5th Argo (USA) 54 pts
6th Frank Racing (NZL) 58 pts
7th Realteam (SUI) 60 points
7th Métropole Toulon Provence Méditerranée (FRA) 72 pts
INEOS TEAM UK GC32 Racing Tour Toulon line up
Ben Ainslie, Helm
Iain Jensen, Mainsail
Giles Scott, Tactician and Float
Nick Hutton, Jib Trim
Neil Hunter, Bow
Support team:
Jono Macbeth, Sailing Team Manager
Rob Wilson, Coach
Matty Adams, Senior Shore Support
Aston Campion, Shore Support
Ben Williams, Head of Human Performance
Harry KH, Performance Drone