Schiehallion, Brisbane
Photos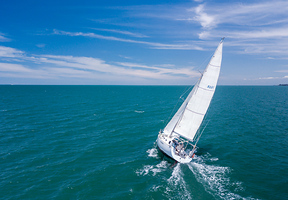 Description
My boat is a custom built Sayer37, launched in 2005. Its a very strong, safe and fast boat. It was built with short handed offshore racing in mind so it is very simple and easy to sail. I have replaced the standing rigging, installed new electronics, brought new dingy/outboard and many other things.
---
Crew needed
Looking for crew for Cruising, Ocean / long distance
When: Long-term
from 31 May 2018
My plan is to spent the last 2 weeks of May doing maintenance then leave brisbane late May, sailing north to Gladstone with stops at Fraser Island, Lady Musgrave etc. Aprox 20th June leave Galdstone and sail to Honiara with stops at coral sea atolls. I will then spend 2-3 months cruising the Solomons and PNG islands before sailing to Indonesia. I wish to have 1-2 crew along for the adventure. I am normally sailing singlehanded so don't need experienced crew especially. If you think you would fit this situation please get in touch.
expect the crew to be able to learn fast and take watches, sail the boat under my direction and generally take pride in it. I am easy going but like the boat to be tidy. Crew should be able to swim. I snorkel, go spearfishing, I have an
SUP
and surfboard and generally play a lot. Crew should also be comfortable being filming/photgraphed as I will be documenting this adventure. It would also be a bonus if crew members helped out with filming.
I am not strictly vegetarian but don't really eat red meat but lots of fresh fish.
I have nothing against vegans but would rather not have vegan crew.
Updated : 9 Apr 2018
---