Bewildered, Have arrived in the Grenada and another world to explore. From July Sailing from Grenada to ABC Islands, Columbia, Panama, San Blas Islands, Central America, Mexico, Cuba, Key West Miami and the Bahamas..
Photos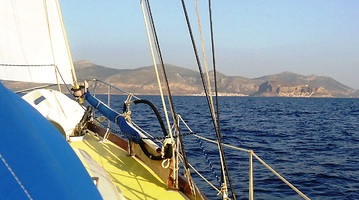 Description
Cape North 43 cutter designed by Ted Brewer, full update of all hull, deck, engine and components, rig & mast, sails near new.
Center cockpit with modified full keel with skeg supported rudder
Visit: www,bewildered.ws
---
Crew needed
is looking for crew for Cruising, Mile building, Ocean / long distance
when: Holidays (short-term), Long-term
from 7 Sep 2019
Program and options for the summer/fall of 2019 beginning in September is as follows.
Please note short or long term aboard.
Further Cruising Info available at: www.FreeCruisingGuides.com
Option #1
Columbia, The San Blas Islands, the off lying islands of Colombia (San Andres and Providencia), the Moskito coast, the Cape at Gracias a Dios and the Hobbies, the islands of Honduras and finally the Rio Dulce River (Guatemala) then on to Cuba and the Bahamas.
Aruba To Columbia 150 Mile Passage
Option #2 Transit Panama Canal, Hawaii, and then Vancouver, B,C, Stops and passage as decided.
Are you a person or persons who is interested in a cruising life, seeing and exploring new places and meeting people and new friends?
Knowledge of sailing and certain experience is important and the person should be financially secure.
There should be not health issues. Age is not important however best range would be 40 to 60 years.
Important to enjoy a sailing life as the world is ours if we so wish.
Join in two(2) weeks in Columbia
Updated : 7 Sep 2019
---