Bewildered, Have arrived in Gibraltar and preparing for the Altantic crossing Crew change possible in the Canaries.
Photos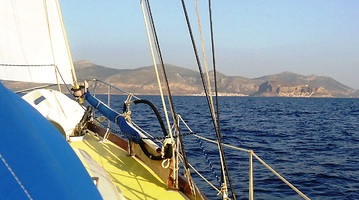 Description
Cape North 43 cutter designed by Ted Brewer, full update of all hull, deck, engine and components, rig & mast, sails near new.
Center cockpit with modified full keel with skeg supported rudder
---
Crew needed
is looking for crew for Cruising, Mile building, Ocean / long distance
when: Holidays (short-term), Long-term
from 27 Dec 2018
Presently in Santa Cruz, Tenerife for Christmas. After Christmas sailing for Cape Verdes then across the Atlantic.
Are you a person who is interested in a cruising life, seeing and exploring new places and meeting people and new friends?
Knowledge of sailing and certain experience is important and the person should be financially secure.
There should be not health issues. Age is not important however best range would be 40 to 60 years.
Important to enjoy a sailing life as the world is ours if we so wish.
Join now in Tenerife sailing December 27Th for Cape Verdes then to cross the Atlantic.
Option to Join in the Caribbean.
Please note communication limited while at sea.
Updated : 23 Dec 2018
---