Boat finder
Show only: United States (clear)
Recent listings
Garrett 40
United States, West Palm Beach Florida
is looking for crew for Cruising
when: Weekday, Weekend, Evening, Holidays (short-term), Long-term
Sailing 30 years many diffrent Sailboats looking for crew to learn more get more miles see more places share the ride Love life See the World Sailing Tuesday Wensday Thursday and Weekends Working on yacht sailing any time im off Sailing Fishing Snorkeling
Updated : 7 Sep 2021
Hunter 29.5
United States, West Palm Beach Florida
is looking for crew for Cruising, Mile building, Ocean / long distance
when: Weekday, Weekend, Evening, Holidays (short-term), Long-term
Sailing on Tues Wensday Thursday each week some weekends West Palm inlet offshore sail fish dive snorkeling just having fun Working on super yacht anytime off i sail fish dive if u are close lets sail 2 sailboats lots of fun
Updated : 7 Sep 2021

Catalina30
United States, Mystic ct
is looking for crew for Cruising
when: Long-term
... 72 yr old skipper, retired, active looking for competent crew to head south to Florida... and onward to bahamas and Caribbean....planned departure sept.15...should be familiar with gps and weather monitoring. Retired female looking to escape the matrix ma be good fit....no drunks..no drama...
Updated : 29 Aug 2021

Fountaine Pajot
United States, Boston Massachusetts
is looking for crew for Cruising
when: Long-term
14 September 2021 - 1 June 2022
We are embarking on a circumnavigation leaving Boston Massachusetts in late September and plan to arrive in Aruba / Bonaire by June 1, 2022. We plan to explore the Caribbean and looking for an energetic crew member to join us.
Updated : 2 Aug 2021
Catalina 26
United States, West River MD
is looking for crew for Cruising, Training, Mile building
when: Weekday
Just bought a Catalina 26, looking for 1 or 2 folks who want to day sail during the week. Kids are swamped with school, work etc, and I need someone to help me get out and sail. Very novice sailor, boat is well equipped and I need to gain experience. Would prefer weekdays.
Updated : 7 Jun 2021

United States, West Palm Beach Florida
is looking for crew for Cruising, Delivery, Training
when: Weekday, Weekend, Evening, Holidays (short-term)
from 15 Jun 2021
I'm a new boat owner and needing to get my boat to Beaufort NC. I'm fairly new to sailing and don't necessarily want to solo sail.
Updated : 5 Jun 2021

United States, Baja + Sonora, then Florida + Bahama + Cuba (owner lives in Colorado)
is looking for crew for Cruising, Training, Mile building, Ocean / long distance
when: Weekend, Holidays (short-term), Long-term
Looking for a female cruising partner who is keen to do 1 week to 3 month trips. Anything from leisurely exploring areas of natural beauty to building miles or working on skills. Might target scuba or kiteboarding locations. But mostly looking to sail, swap stories, enjoy nature and improvise good food. If some grants come through I might be looking for help with some sailboat based ecology research, nothing that pays. I can handle my boat single handed. I do not NEED crew, I do not PAY for crew. But trips are typically far more rewarding with companionship and conversation. Not a racer boat. Not a richy yuppie boat (or owner). No wine glasses. No bow thruster. No gen-set. No in-mast-furling. No foam cored hull. No hot water aside from a motor heated sprayer. No pressurized water. No or infrequent use of marinas and shore power. No or limited urban tourism or expensive restaurants in developed countries. So if you are looking for that type of trip I am not your boat. Boat is built for safety and longevity. Salty with lots of teak and bronze. If you are unfamiliar with the pros and cons of heavy displacement solid GRP full keel single hull sailing vessels (design changed little for a hundred years) relative to the light displacement fin keel foam cored 'benetueau' style boats and catamarans (surprisingly en vouge since the early 2000s) please message me. Aeronautical engineering is a hobby of mine and I happy to chat about it or suggest some great books. With a 27' water line hull speed is slow. But, hull speed is obtainable with only light winds if crew is willing to think. It is rare that I use the motor aside from setting the anchor. I prefer quiet secluded anchorages of natural beauty. I prefer restocking in small towns and like struggling with local languages. I prefer enjoying nature over urban trips, but if in a foreign country, urban can be enlightening. I like to combine sailing with active outdoor recreation pursuits, a great first topic of correspondence. Nekton, the boat, and I hope you like the same. Owner does not speak in 3rd person but is having a hard time writing this without starting ever sentence with personal pronouns or pretending that the boat is a person.... so... Owner is a well educated and well published scientist with extensive boating and outdoor recreation experience. Very safety conscious. Liberal political leaning but not judgmental. Owner is vegetarian who eats fish when on the ocean, but that is not a requirement. Owner does not smoke or use drugs. Smoking and drugs are not allowed on board. Owner does not drink (even on land) but I am fine with crew drinking ethanol when not underway in bad weather, when of legal age in the country of visitation, and if safe about it. Owner is not rich (his PhD is in ecology). Originally I found summers sailing in Alaska to be rewarding and stunning and well worth the logistical effort. At this time I have a job that I love which keeps me busy May-Nov. So, summer sailing (northern hemisphere) is limited to short coastal trips. Long vacations (1 week to multi month) in the Dec-May seasons will be available for the next few years rotating through: Sea of Cortez, Fl+Bahamas+Cuba. I am in the middle of a large refit. Due to COVID closures, I bit off more than I should have when I saw the pandemic as a great excuse to overhaul the boat (In hindsight, I should have caught up on writing). So, she will not be sailing until Oct 2021 or later. I am happy to hear from people who might be a good fit in the years to come, even if not ready soon. There needs to be lots of trust built so I am willing to meet numerous times or plan coastal trips at first until a safe dynamic is found. (5 to 8 year long range plans likely include returning to Patagonia or Alaska, or hopping Caribbean). Any experience level is okay. More experience allows for more intense trips, but I also like slowing down and making an enriching educational experience for others. Interested in slow paced or fast paced recreation or even training weeks to practice skills. Interested in both platonic or romantic dynamics. Possibly interested in academic collaborations. All of these are great topics for correspondence.
Updated : 20 May 2021
Melges 24
United States, Denver
is looking for crew for Keelboat racing
when: Weekend
Healthy crew willing to learning to race.
Updated : 10 May 2021

Appledore Gaffer
United States, Los Angeles
is looking for crew for Cruising
Captain
Updated : 20 Apr 2021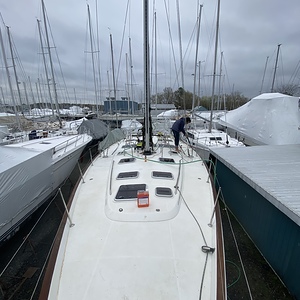 United States, Annapolis MD
is looking for crew for Training, Ocean / long distance, Professional
when: Weekend, Holidays (short-term), Long-term
Hello. I want someone who can teach me the riggings and sailings. I am planning to travel the world with my new sailboat with open minded laidback person.
Updated : 18 Apr 2021

Custom
United States, Ft Lauderdale
is looking for crew for Cruising
when: Long-term
Novice crew ok someone who has shared desire to get away from the rat race enjoy a leisurely circumnavigation spending time in each country for a few weeks getting to know different cultures meeting people soon as countries open up more right now doing day and weekend sailing around fla
Updated : 15 Mar 2021